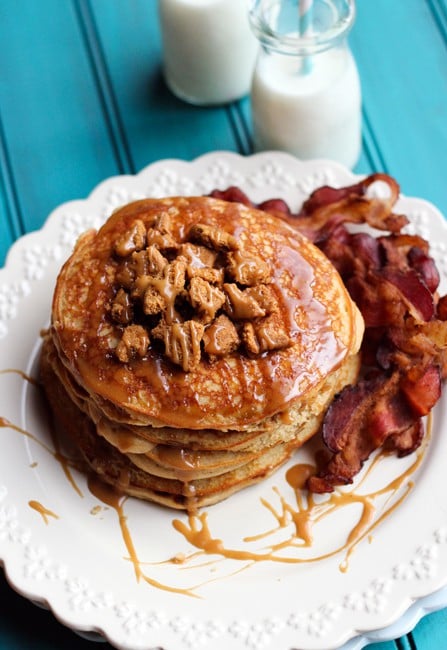 Photo and Recipe By: Rachell Cooks
Yield: 6-8 medium pancakes
Prep time: 10 minutes, Cook time: 20 minutes
INGREDIENTS:
1/4 cup Speculoos Spread
1 egg
2 tablespoons sugar
2 tablespoons butter, melted
3/4 cup 2% milk
3/4 cup all-purpose flour
2 teaspoons baking powder
1/4 teaspoon salt
A few crushed Speculoos cookies on top
INSTRUCTIONS:
In a large bowl, whisk together Speculoos, egg, sugar, and butter. Gently whisk in the milk.
In a small bowl, combine the flour, baking powder and salt and gently pour the dry mixture into the wet mixture, whisking until all is well incorporated.
Lightly butter or grease a large skillet. Place over medium heat and drop batter by the ladle full onto the hot skillet.
Cook until bubbles form and pancakes are golden brown on the buttom.
Flip them over and continue cooking for another minute or so.
Serve with Speculoos syrup (1/4 cup Biscoff and 1/3 cup of maple syrup mixed together) or regular maple syrup.